I'm thrilled to be participating in a blog hop highlighting Christ-centered Christmas activities for kids. If this brings you here for the first time, welcome! In our home, we love movie night. You can learn more about my approach to this here. Eating a delicious dinner and then settling in to watch a movie together with some popcorn is a fun and easy way to celebrate the season.
During the Christmas season we of course love all the holiday classics, but we never want to overshadow the true meaning of Christmas. This year, we watched The Nativity Story for the first time. My kids are 7 and 10 years old, and this led to some meaningful discussion. This movie is best for older kids. Please check out the content of this movie here to make sure your little ones are ready for The Nativity Story. I'll have some preschool-friendly movie suggestions at the end of the post.
We always set the scene for our movie nights and this meant pulling our nativity play set from the homework area and making it a centerpiece.
Our "Glory to the Newborn King" sign is from Hobby Lobby last year.
This was the perfect movie night to use my Dayspring scripture plates.
This movie transported us to the days when the world was so eagerly awaiting the Messiah. It was especially eye-opening to my 7-year-old daughter, and a great way for our family to connect with the story of Christ's birth. We look forward to watching it year after year.
If you are looking for Bible-based Christmas movies for a younger audience, I suggest A Wowiebozowee Christmas or Veggie Tales - The Toy That Saved Christmas.
Be sure to check out all the other activities to help keep the focus on Jesus this season.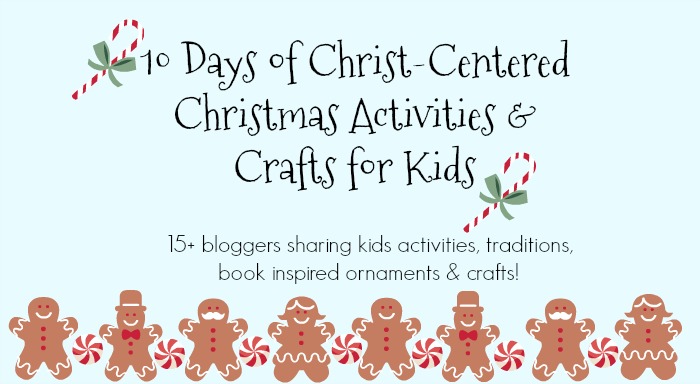 Our 10 Days of Christ-Centered Christmas Activities & Crafts blog hop is filled with lots of fun activities for the family. Our Fabulous bloggers are
Inspired by Family
,
Chaos & Clutter , Paradise Praises, Encouraging Moms at Home, Crafty Moms Share, Thinking Kids Blog, Teach Me Mommy, Proverbial Homemaker, Suburban Soiree, The Awe Filled Homemaker, Future Flying Saucers, Adventures in Mommydom, Spark and Spook, Talking Mom 2 Mom, Clarissa R. West, Pichea Place
&
Homeschool preschool
. You can visit
Inspired by Family blog
for the full schedule of activities.
Thank you for joining me today and Merry Christmas!
This post contains affiliate links.